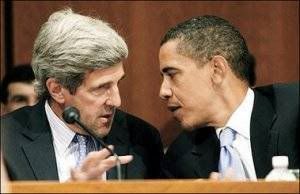 There's not much I can add to the general primary race blather that hasn't been said ten times over by people who can say it ten times better than I.
Once again, I'd like to mention how spectacular the reporting of
Al Giordano
has been over at The Field. If you appreciate his reporting as much as I do, please consider
contributing to the cause
. It's reader contributions alone that have kept him reporting ever since Super Tuesday.
There is one thing I have to say that I haven't read elsewhere, and that is to note that by going out on a limb for something he believes in (i.e. Obama's candidacy), John Kerry comes out looking both smart and prescient. Once again. It's great to see integrity triumph, even if I still wish it had triumphed four years ago.