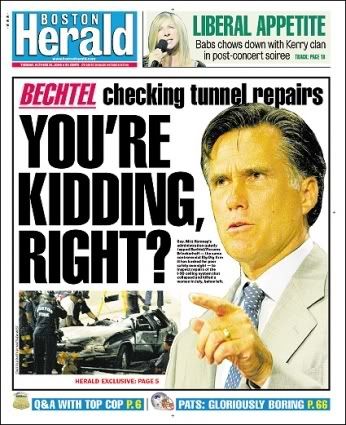 Good question Mitt. What's the answer?
You just could not
make this stuff up
. Via Charley at
Blue Mass Group
.
After repeatedly bashing safety oversight by the Big Dig's top management consultant, the Romney administration quietly tapped the controversial firm to inspect repairs of the Interstate 90 ceiling system that collapsed and killed a woman in July, the Herald has learned.

A spokesman for Bechtel/Parsons Brinckerhoff said the firm has been conducting daily field inspections of remedial work inside the I-90 Seaport connector tunnel - essentially the same role it played before the collapse that killed Jamaica Plain motorist Milena Del Valle, 38...

...The administration's handling of the Big Dig has come under intense scrutiny amid an increasingly bitter campaign for governor in which Lt. Gov Kerry Healey is trying to close a gap in polls in which she trails Democratic rival Deval Patrick.

In a statement last night, Patrick said, "Enough is enough. It is very clear that the Romney-Healey administration has failed in its oversight of the Big Dig. This fox guarding the hen house approach . . . is what got us into this mess in the first place."

Multiple attempts to get comment from the Healey campaign last night were unsuccessful.
America, don't say you weren't warned about this guy.