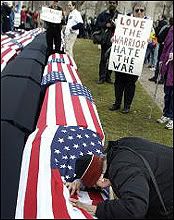 Rose Gonzalez addressed the crowd on behalf of her mother, a 47-year-old grandmother who she said joined the National Guard never expecting to be deployed as part of an occupation force.

"Bring them home now!" Gonzalez shouted. The protesters lined up mock coffins draped with American flags to represent soldiers from Massachusetts killed in the war.

Tony Flaherty, 74, of South Boston, a naval officer during Vietnam, said, "As an old man and a veteran whose heart breaks for the young people dying over there, I'd like to believe that people are waking up."