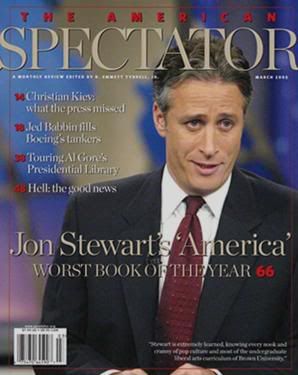 Congratulations to Jon Stewart and the Daily Show staff!!
America: The Book
has been named
Worst Book of the Year
by the American Spectator. Talk about your honors. I'm looking forward to hearing the Daily Show acknowledgement.
And speaking of the Daily Show, I really enjoyed Jon's interview of Princeton emeritus professor Harry Frankfurt last night. Jon got a kick out of saying
"Bullshit"
about thirty times, and I got a kick out of the quirky conversation. I'd applaud a move to concentrate on more quirkiness in the future, and give the parade of movie-hawking actors and actresses a rest.